Ravi Mittal
The Quintessential Ideas Guy
Ravi is the ultimate internet junkie with a huge love for music of all genres. He started working with his dad who is a businessman at 16 when most others of his age are expected to be studying, partying or playing games! Pure Hard work and innovative ideas drive him and this was a quality which helped him immensely in his stint in the manufacturing industry for over 7 years. His redeeming features are of course his keen observation skills coupled with simple common-sense and these are the characteristics which bring some truly good ideas to the table. He absolutely loves public speaking, delivering speeches and engaging in intellectual arguments (which we can't win!). Above all he is a very passionate guy and likes living in the limelight come what may - things which drive him and also the people around him!

Anoop Ramnathan
The Approver
Every idea worth its salt has to be critically analyzed, dissected and approved before it sees the light of the day. This is the belief of Anoop and he was the first person to believe that QuackQuack could be turned into something more than a dream - a reality! He is an extremely funny guy and is endearing to every person he meets. Always a livewire with his humor, but only the close ones know that he uses a lot of logic and analysis before he says anything, yes even before the jokes. As an Ex-Associate Manager from CSC, he amassed a wealth of experience by working with various airlines across the globe, helping them with their IT solutions. He says he is retired into the beautiful city of Oxford and is pursuing his dream MBA at Saiid Business School but we know that - He will be back!.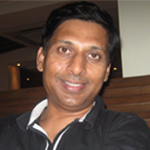 Capt Ahmed
The designing guru
Some things just don't seem right together - said or done, but boy are the wrong in the case of our Capt Ahmed. It does not fail to amuse people to learn that a captain is into the branding and creative business. But he is the beacon to all people who want to pursue their interests. Born into a family who served the nation serving uniform, the Capt also joined the Indian Army. But he quit after 5 years in the short service commission to pursue his creative instincts and joined the advertising field which he fondly calls as 'Ad-WAR-tising'! Today he helps a lot of fresh talent who believe in their instincts by giving them on-job training.

This gentle giant besides sketching strategies, brainstorming and nurturing new ideas, finds solace in writing poems and making portraits. A long cherished dream of our Capt is to venture into theater and we are raring to see him perform here too!

Kunal Shah
The friendly guy!
He was the guy who had been bombarded day in and day out on the various ideas which kept popping in Ravi's mind. Patience and a good listening ear made him the ideal sounding board for new thoughts and he never fringed from sharing his thoughts. Down to earth, always smiling and rekindling the spark in everyone Kunal was a person who was admired by everyone. Studied at DAIICT-Ahmedabad, worked with Infosys and was a sure shot brilliant guy who made it to IIM-I. Though he departed from the physical realm just when he was starting to enjoy his life more, we believe he will be smiling from God's serene abode above. We miss you Kunal!